HAIR REMOVAL
Light-based hair reduction has successfully been performed for years by technicians around the world. This quick and easy process is highly effective at achieving hair reduction on any area of the face and/or body.
The technology utilizes a broad spectrum light source. Different filters are used to screen out lower frequencies and narrow the spectrum to target specific elements in the skin, in this case dark hair. Because the light source has such a broad spectrum, this technology is unique (as opposed to lasers) in its ability to filter that light spectrum to aim for various unwanted characteristics of the skin.
Hair Reduction Results
In Chicago and Oak Brook
Our aestheticians have performed tens of thousands of non-surgical treatments, including hair reduction. You can see the results for many of them in our Before and After Gallery. Use our MyFavorites tool tool to create a collection of the results you'd like to achieve and the cases you wish to discuss during your complimentary consultation.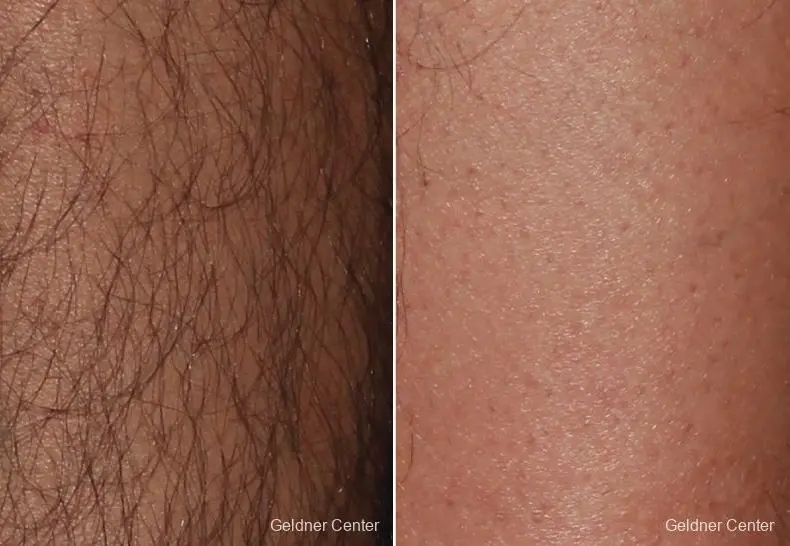 The Geldner Center offers Forever Bare BBL hair removal treatments. Photos Courtesy of Sciton.
View More
Light-based hair reduction targets and selectively destroys hair follicles while it leaves the skin intact. However, only certain patients are candidates. The ideal candidate is a pale-skinned individual with dark hair. If you are unsure of your candidacy with this treatment we encourage you to call us or make an appointment for a consultation and one of our technicians can determine whether this treatment is right for you.
You should know that hair reduction will take more than a single treatment and won't remove all of the unwanted hair. Results will depend on color, hormones and location of hair follicles. On average, hair reduction decreases the amount of dark hair growth by 40-90%. Generally, a range of 6-12 treatments with 4-8 weeks between treatments is ideal for optimum results. The amount of hair reduction after multiple treatments may be sustained anywhere from 6 months to 7 years. Touch-up treatments during this time may be needed. There is also the unlikely possibility that no hair reduction may occur.
Every patient is unique, so response to a hair reduction treatment can vary. Some redness and swelling may be experienced just after the procedure is complete but will usually resolve completely within 24-48 hours. A sunburn sensation in the area treated is also normal and expected and can last up to 24-72 hours.
Certain areas may feel uncomfortable during the procedure with the sensation of heat and/or pin pricks. Most patients find this mildly uncomfortable and experience little to no downtime making this an easy treatment to receive over a lunch break or before events.
Reviews
"Dr. Geldner, I just want you to know how much your love, passion and expertise in this field are appreciated. You are an amazingly qualified surgeon who knows how to work magic."
~ Patient Review
Learn More About Laser Hair Removal
Watch a presentation that explains the procedure, preparation and recovery details.