Male Rhinoplasty
Why does a man want a rhinoplasty? There are as many answers as there are men seeking rhinoplasty. Some see themselves looking like their ancestors, those who had unattractive noses. Some have a prior injury, and they just realized that correction was possible. Some see their noses as not fitting with the rest of their faces. Others still have an excellent reason to improve their breathing and want to change some things that they have never liked while having functional improvement.
Rhinoplasty Results
In Chicago and Oak Brook
Dr. Geldner has performed tens of thousands of plastic surgery procedures, including rhinoplasty. Take a look at the results for yourself in our Before and After Gallery. You can even use our MyFavorites tool to create a collection of the results you'd like to achieve and the cases you wish to discuss during your complimentary consultation.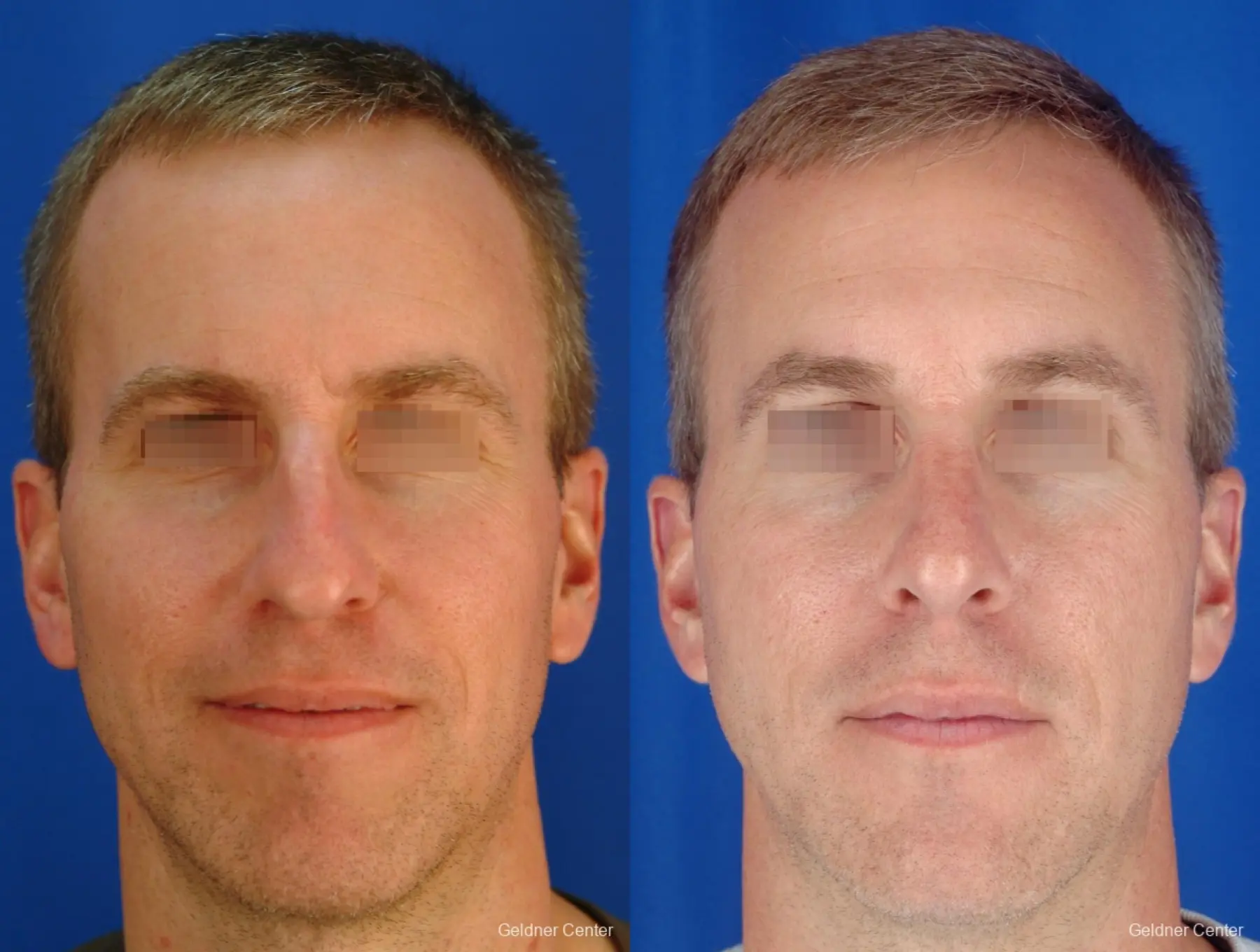 This gentleman came to me with breathing issues and a desire to look better. We estimated his result using computer simulation...
View More
During male rhinoplasty, we change the appearance of the nose by altering those things that give the nose shape. We take away or add cartilage to the nose and allow the skin to drape itself over that scaffold. This can be performed through internal incisions only (closed or endonasal technique), or through an incision that passes over the columella and other internal incisions. That open technique allows the surgeon to visualize all of the structures of the nose and in most cases gives better control of the outcome.
A consultation begins with the patient addressing what they want changed. Most men want a strong, well-defined nose. It should be straight and symmetric. The nostrils have to be appropriately sized and shaped. We may have a great vision of how we want the nose to look, but if it's different from the patient's view, we will ultimately fail. Internal exam of the structure follows. We need to know what's in there. Are there structural problems in the nose or holes in the septum that could hinder our plan?
The most important part of any consultation is trying to establish what the patient and doctor individually feel would be an acceptable outcome. I view computer imaging as an important part of the consultation. The patient and surgeon have to understand what each wants. To the surgeon, this image serves as a road map. Once we have achieved that look, we're where we want to be. Clearly, any imaging that is produced is a means of communicating desire; in no way do these images constitute a guarantee of an expected result. Healing can always produce surprises.
Risks of this operation are uncommon. As tissues heal, scars can form and breathing through the nose may be made difficult. Infections and bleeding are uncommon. The need for a secondary procedure is uncommon.
How a rhinoplasty is performed in any individual patient is based on the patient's desires, expectations and anatomy. With Dr. Geldner's superior surgical skill, 25 years of experience, and his experienced and compassionate staff, we exceed our patients' expectations.
Reviews
"Dear Dr. G, I just wanted to send a small thanks to let you know how much you have helped me. Your care and skill is remarkable. You made a huge difference in my life."
~ Patient Review
Learn More About Rhinoplasty
Watch a presentation that explains the procedure, preparation and recovery details.